| | |
| --- | --- |
| Miller Family Recipes | |
"Keeping the Harvest": Our Best Canning Recipes

...Plus Some Other Non-Canning Favorites

When our family was younger, I did a lot more canning each season than I do now (more cooking also...I'm getting to the "homemaker burnout" stage!). Over the years, we've accumulated a few basic recipes that I always put up each season. Some of these have been modified to fit my personal tastes. Hopefully, you'll also like them. We've especially had requests for the dill pickle recipe, which was passed down from my Grandma Hough and modified a bit by me. The low sugar jams were inspired by my sister and I experimented with different fruits that we had.
I hope you enjoy them!

Apple Butter
Apple or Peach Pie Filling
Reduced Sugar Jams

Kathy's Favorite Dill Pickles
Chili Sauce

Quick Light Crescent Rolls

Goulash
Chili Con Carne
Carrot Soup
Zucchini Soup
Best Spaghetti Sauce

Green Beans Sorrento
Tuna New Orleans
Robert's Copy of Big Apple Diner's Fried Potatoes

Cranberry "Stuff" (Relish)
Fruit Salad
Dark Fruit Cake
Pecan Pie
Our Favorite Brownie Recipe!
Golden Bars

Banana Nut Bread
Oven-Made Caramel Corn
Easy Cream Caramels
Almond Roca
The BEST Marshmallow Creme Fudge Recipe!

Canning:
Apple Butter (Yum!)
Recipe From: Etta Frazier
4 quarts unsweetened apple pulp (tart apples like Jonathan are good)

1 cup apple cider vinegar (don't leave this out!)

8 cups sugar (optional: half can be brown)

4 tsp. cinnamon

1 tsp. allspice

1 tsp. cloves

1 tsp. nutmeg (optional)
Blend all ingredients in a large roaster pan and cook in a 250-300º oven until thick. This takes about 6-7 hours...stir every so often. To test, put a little on a plate and let set a few minutes...if no juice separates, it is ready to can. Pour into sterilized pint jars, seal and water (or steam) bath for about 10 minutes, to ensure seals. Makes 7-8 pints.

*To get about 4 quarts of apple pulp (like sauce without the sugar), you will need to cook down approximately 7 quarts of quartered apples (leave skins on). Place them in a large pan with about 1-2 inches of water, cover and cook until soft and mushy. Strain with a food mill or food strainer.

Apple (or Peach) Pie Filling
Recipe From: Sharen Stech
3 1/2 cups sugar

1 cup cornstarch

1 1/2 T. cinnamon

1 tsp. nutmeg (I like to buy them whole and grate as needed)

1 tsp. salt

1/3 cup reconstituted lemon juice (fresh, if you have it!)

1/2 tsp. dried lemon peel (optional)

11 cups water

2-3 drops yellow food coloring (optional)

7-8 quarts peeled and chunked tart apples or peaches
Mix dry ingredients in a large saucepan. Add water and lemon juice and cook over medium high heat until thick and clear, mixing with a whisk. When thickened and clear, turn to low and keep covered until needed. Pack apples or peaches into clean quart jars and fill to 1/2 inch of top with hot "syrup." Work out air bubbles with a knife. Adjust lids and process in boiling water bath for 25 minutes (15 for pints).

To use in pie, bake at 400º for about 50 minutes. We usually use this filling for crisps, since they are less work. Prepare crumbly topping as usual and pour over filling in a 9" square pan. Bake at 350º for about 35-45 minutes, or until topping is lightly browned.

Reduced Sugar Jams
Recipes From: Linda Nopp and Kathy Miller
My sister told me about the idea of doubling the pectin and cutting the sugar in half to make jams with less sugar and more taste. I experimented around with this idea and these are the results. Follow the usual pectin package instructions as to the mixing procedures (except ignore the part about NOT doubling the batch!)If your jam doesn't quite look like it has jelled after the prescribed period of time, continue boiling a few more minutes until it looks right to you (if you are an experienced jam maker!) Pour the finished jam into clean jars, seal and water bath for about 10 minutes to ensure seal. I don't recommend sealing these with paraffin, since the sugar levels are lower.
I usually add 1 tsp. of butter to each batch of jam to reduce foaming.
*Note: Since I made these jams, the MCP company has changed its pectin a bit... so some adjustment might be necessary. I've not made them recently to test the recipes with the new pectin.
Sour Cherry

10 cups ground or mashed pie cherries

1 cup water (omit if using the lesser amount of sugar)

2 pkgs. MCP pectin

14-16 cups sugar

Boil about 5-6 minutes.

Apricot-Pineapple

6 1/2 cups ground fresh apricots

5 cups (40 oz.) crushed pineapple (with its own juice)

1/3 cup lemon juice

3 pkgs. MCP pectin

12 cups sugar

Boil 6-7 minutes.

Raspberry

12-14 cups mashed raspberries

2 pkgs. MCP pectin

1 cup water

13 cups sugar

Boil 4-5 minutes.

Blackberry

12 cups mashed berries

2 pkgs. MCP pectin

10 cups sugar

1/4 cup lemon juice

Boil 5-6 minutes.

Makes 9-10 pints.

Kathy's Favorite Dill Pickles
Recipe From: Me and Grandma Alice Hough
Brine (for about 6 quarts):

2 2/3 quarts of water (just measure in a quart canning jar)

1 1/3 quarts cider vinegar (Please use cider...it's better!)

3/4 cup canning salt (no iodine)

1 tsp. each alum and sugar

In each clean quart jar, place the following:

2 med. to small or 1 large head fresh dill (at top and bottom)

1 clove garlic, peeled (bottom)

1/2 tsp. mustard seed (bottom)

Fresh washed cucumbers to fill (pack as tight as you can)
Cover the contents of each jar with simmering hot brine (brought down from a boil) and seal (follow general canning instructions...Ball and Kerr have booklets for this). Process in boiling water (or steam canner) bath for about 10 minutes to ensure seals. Remove immediately after finished so as not to overcook contents. Place jars in a draft-free place to cool (on a towel). If you are new at pickle-making, be sure you allow them time to cure before opening a jar. They will change after canning and go through a "shriveled" stage and eventually the cucumbers will plump up and take on a translucence. I usually wait two or three months before opening a jar for testing. They should be translucent all the way to the center.

Chili Sauce (Tastes Wonderful on Navy Beans with Ham Hock)
Recipe From: Grandma Alice Hough
48 medium-sized ripe tomatoes

2 green or red peppers

12 onions (average size)

5 cups vinegar (cider really IS better!)

1 2/3 cups sugar

10 tsp. salt

1 T. ground cloves

8 tsp. cinnamon

8 tsp. nutmeg

5 tsp. chili powder

1 T. celery salt

1 tsp. garlic powder

1 tsp. black pepper

3 cans tomato paste (6 oz. size) to thicken
Peel and slice tomatoes; add chopped pepper and onion; put into kettle with remaining ingredients. Heat slowly to boiling and cook slowly for 1 1/2 hours. Seal in sterilized pint jars and process in a boiling water bath for about 10 minutes to ensure seal.

Breads:
Quick Light Crescent Rolls
Recipe From: Zoey Wixom
2 cups milk, scalded (may substitute warm water and instant milk powder, added with dry ingredients)

2 T. dry yeast (dissolve in warm liquid)

dash of ginger (added to yeast and liquid mixture)

1/2 cup sugar

2 tsp. salt

5-6 cups flour (unsifted)

1/2 cup shortening (1 stick margarine or butter)

3 eggs, beaten
If using scalded milk, allow to cool until toasty warm but not hot. Add dry yeast, 1 T. of the sugar and a dash of ginger. Allow to work for about 15 minutes. In a large mixing bowl, combine the yeast mixture with the beaten eggs and melted shortening. Add salt and flour and mix in well to make a soft sticky dough (if you have an electric bread mixer, knead this about 5 minutes or so). Cover the bowl and let stand in a warm place until the dough has risen to 3 times its original size. Turn out onto a generously floured board and turn over until floured on both sides. Knead a few more minutes until air bubbles are worked out and the dough is still a bit sticky, but workable (it should feel like your face...if you have soft beardless skin!). To shape into crescent rolls, divide dough into three equal portions. One at a time, roll each piece into a circle and cut into 12 equal sized wedges ...start by cutting into four quadrants and then cut each into three pieces...a pizza wheel makes this a snap). Roll each wedge up from the wide end to the point and place point down on oiled baking sheets (2 large cookie sheets should do it). Cover with a tea towel and let rise until almost double. Bake at 350º for 20 minutes (maybe a couple more...check them first) or until light golden brown. Makes 3 to 4 dozen rolls.

These are totally delicate and YUMMY! We have them every Christmas and Thanksgiving. This dough is wonderful for cinnamon rolls also.

Whole Wheat Pancakes
Recipe From: Kathy Miller
2 1/4 cup whole wheat flour (we grind our own)

4 tsp. baking powder

3/4 tsp. salt

2 T. sugar

3/4 cup powdered milk (unless using milk instead of water)

1/4 cup oil

3 eggs

2 cups water (approximately)
With an electric mixer, mix eggs and oil until they make an emulsion. Add 2 cups water or milk, if using regular milk. Stir in all dry ingredients and mix until just well blended, but not over mixed. If you think the batter is too thick for your tastes, blend in a bit more liquid (with a spoon) until it's the desired consistency. If you like, mix in a cup of blueberries or other fruit. Fry on hot griddle. These really stick with you and are surprisingly light for whole wheat. We occasionally have these for dinner instead of breakfast! (With some bacon or link sausages, usually.)

Main Dishes:
Goulash
Recipe From: Grandma Hough

1 pound ground round

1/2 green pepper chopped

1 onion chopped

8 ounces canned mushrooms, drained

1 cup macaroni

15 ounces cut canned tomatoes

1 can tomato paste

1/2 teaspoon chili powder

1 teaspoon Worcestershire sauce

1/4 teaspoon paprika

1/8 teaspoon oregano

salt to taste

4 ounces (approximation) cheddar cheese, sliced

Brown hamburger, green pepper and chopped onion together about 15 minutes, or until meat is done. Add mushrooms. At same time, cook macaroni in boiling, salted water (uncovered) until tender. Drain. When both are done, mix together with tomatoes, tomato paste and seasonings. Put in a 1 1/2-quart casserole dish, top with sliced cheese and brown in 350 degree oven about 20-25 minutes.

Chili Con Carne
Recipe From: Grandma Alice Hough (Served at their cafe in Newport, WA)
2 cups red beans (dry) soak and drain

1 pound ground beef

1 large onion chopped

2 tablespoons chili powder

4 cups tomatoes cut

2 cups water

1 1/2 teaspoons salt

1/2 teaspoon celery salt

1 1/2 teaspoons paprika

1/2 teaspoon garlic powder

1 can tomato paste

2 tablespoons cornstarch

1/4 teaspoon cayenne pepper (optional)
Boil beans for 5 minutes in a generous amount of water and allow to soak for one hour. Drain beans and add the browned hamburger and onion and the other ingredients except for the salt and cornstarch. Cover and simmer slowly until beans are tender...about 2 hours. Add salt after beans are tender and thicken with cornstarch just before serving.

Carrot Soup
Inspired by our trip to Vancouver, B.C., Canada in May of 1998. The woman who cooked this at a sandwich shop in North Vancouver where we ate told me what she put into the soup and I reconstructed from there...I usually make twice this much for our family.
7 cups water

8 chicken bouillon cubes (I'm too lazy for real stock!)

1 small pat of butter

1/4 tsp. garlic powder

1/2 tsp. Italian Seasoning

3 large baking potatoes, peeled and cubed

6-9 large carrots, peeled and sliced

optional: 1/2 onion, chopped
Simmer all ingredients together until vegetables are soft. Puree, using a hand held blender (stick blender) or however you puree things at your house (blender, food processor, etc.) until smooth.

If you like, you can add cooked and diced chicken pieces.

Zucchini Soup
Recipe From: Pat Prenty...my soaping friend in British Columbia
1 medium onion, chopped

1/2 tsp. oregano

3 cloves garlic, chopped

1 T. basil

4 T. butter

4 cups chicken broth (where ARE those bouillon cubes? :)

4 med. zucchini, chopped (or 1 LARGE? ...about 8 cups)

4 oz. cream cheese
Sauté onion and garlic in butter for 5 minutes. Add zucchini and spices and heat for 5 minutes. Add chicken broth and heat through. Take the soup off the stove and blend in the cream cheese until everything is smooth (using a hand held turbo blender, or whatever works for you...like with the Carrot Soup recipe, above). Return to stove and heat through on simmer until ready to serve.

Best Spaghetti Sauce
Recipe From: Kathy Miller
2 tablespoons olive oil

1 button garlic finely chopped

1 medium onion chopped

1 pound ground round

30 ounces tomatoes, plus juice cut up

15 ounces tomato sauce

1 can tomato paste

1 cup water

4 ounces mushrooms drained

1 teaspoon chili powder

1 teaspoon sage

1 1/2 teaspoons salt

1 teaspoon sugar

1/2 teaspoon oregano flakes

1/4 teaspoon thyme

1/8 teaspoon pepper

1 bay leaf
Brown garlic pieces in oil; remove dry pieces. Brown onion and hamburger in garlic flavored olive oil (season a little with Johnny's season salt). Add tomatoes, sauce, paste, and drained mushrooms and blend. Add all spices and mix well. Simmer approximately 2 hours. Before serving remove bay leaf and thicken with a little cornstarch solution, if needed (about 1 T. cornstarch).

Green Beans Sorrento
Serving Size: 4 to 5
2 No. 303 cans (1 lb. size) green beans

2 T. olive oil

2 T. wine vinegar
2 tsp. crumbled dry oregano (for less seasoning, reduce to 1 tsp.)

1 tsp. garlic salt (for less seasoning, reduce to 1/2 tsp.)

1/2 cup pitted and halved ripe olives
Pour off liquid from beans. Heat beans with other ingredients, stirring occasionally. Serve hot.

Tuna New Orleans
Serving Size: 5
1 tomato chopped

1/2 cup green pepper chopped

1 6 oz. can sliced mushrooms

1 tablespoon onion chopped

2 tablespoons butter

1 can cream of celery soup

2 cans tuna drained

Hot Rice
Saute' tomato, green pepper, mushrooms and onion in butter for 5 minutes. Add can of soup and heat for 5 minutes. Add drained tuna and heat for 2 more minutes. Serve over hot rice. Serves 4-6.

Robert's Fried Potatoes (Inspired by the Big Apple Diner)
Recipe From: Robert, our second son
5 large potatoes baked

2/3 cup green bell pepper cut into 2" strips

1 large onion cut coarsely

2 teaspoons paprika

2 teaspoons Cajun seasoning (Schilling)

2 teaspoons Johnny's Seasoning Salt

1/8 teaspoon cayenne pepper

2 tablespoons vegetable oil

1/4 teaspoon paprika
Mix the 2 T. oil and 1/4 tsp. paprika in a large skillet or wok. Mix while oil comes to temperature (med. high). Stir in green pepper strips and onion and fry until onion is translucent. Add cut potatoes (skin on) and season all with spices and salt. Stir and fry until well browned and hot.

The original potatoes we tasted similar to this (at the Big Apple Diner in Bremerton) were made from new red potatoes, but any kind still tastes good!

Sweets:
Cranberry "Stuff" (Relish...A staple at Thanksgiving.)
Recipe From: Wixoms
1 pound cranberries

1 orange (remove "heel" ends, but leave the rest of skin on)

2 apples (unpeeled, remove seeds and stem)

2 cups sugar
Put all but sugar through food chopper or food processor; add sugar, mix well. Let stand overnight. Good by itself or as a salad in cherry jello.

Fruit Salad
Recipe From: Wixoms
2 large apples

3 large bananas

1 can chunk pineapple (unsweetened)
Cut fruit into bite-size pieces. Save juice from pineapple to use in dressing. Cover fruit with cooked dressing and toss.
Cooked Dressing:
1/2 cup sugar

1 egg

1/2 c. pineapple juice

1 T. flour
Mix thoroughly (cream egg and sugar first) and cook over medium heat or in microwave (stir frequently) until thickened. May substitute corn starch for the flour, but may need more than 1 tablespoon.

Dark Fruit Cake
Recipe From: Kathy Miller (working off a Betty Crocker recipe)
2 pounds dates cut 1/4 inch thick

3 cups raisins

8 ounces candied cherries cut in half

2 cups pecans chopped

1/4 cup orange rind

4 cups all-purpose flour

1 teaspoon baking soda

2 teaspoons cinnamon

1 teaspoon allspice

1 teaspoon mace

1/2 teaspoon ground cloves

1 cup shortening (half butter)

1 1/2 cups brown sugar

1 teaspoon lemon extract (optional)

4 eggs

1 cup molasses

1 cup milk
Mix last six ingredients together first (beginning with shortening). Coat fruits with 1/2 cup of the flour. Mix remaining flour, soda and spices into creamed ingredients. Fold in fruit and nuts. "Pour" into four greased and floured large bread pans and bake at 325 degrees for 1 hour and 15 minutes, or until a toothpick inserted in center comes out clean.

Pecan Pie (Loved this since I got the recipe in my 8th grade Home Economics Class!)
One 9" unbaked pastry shell

1/2 cup butter (one stick)

1 cup sugar

3 eggs, beaten slightly

3/4 cup light corn syrup

1/4 tsp. salt

1 tsp. vanilla

1 cup chopped pecans, or halves if you prefer them larger
Cream butter, add sugar gradually and mix until light and fluffy. Add remaining ingredients in order above (except pecans). Blend well with electric mixer. Fold in pecans last. Pour into uncooked pastry shell and bake on lower shelf of oven at 375º for 40 to 45 minutes. To test pie, you can jiggle the pan slightly. The center should wiggle a little like firm jello, not slosh around. When the center is "set," remove pie from the oven and allow to cool. Refrigerate leftovers.

Our Favorite Brownie Recipe! (adapted for powdered cocoa)
Original Recipe From: The Joy of Cooking... "Brownies Cockaigne"

Makes 30 brownies. Bake in a 9 X 13" pan at 350 degrees for 25 minutes (or more if needed, but don't overbake).

3/4 cup butter (1 and 1/2 sticks)

3/4 cup cocoa powder

4 eggs, at room temperature

1/2 tsp. salt

2 cups sugar

1 tsp. vanilla

1 cup sifted flour

1 cup chopped pecans or walnuts (optional)

Melt butter in double boiler or microwave oven (in a heat proof glass bowl). Add cocoa powder and mix until smooth... set aside.

In a separate bowl, beat eggs and salt until light and foamy (electric mixer is great for this). Gradually add 2 cups sugar and 1 tsp. vanilla while you continue to beat until well creamed. Fold cooled chocolate mixture into the eggs and sugar. Before mixture becomes uniformly colored, stir in gently: 1 cup sifted flour and nuts (optional). Pour into greased 9X13" pan and bake as indicated above. Test in the center with a toothpick to determine whether it's done... it should come out clean.

These are the BEST brownies! :-)

Golden Bars
Original Recipe From: Mrs. Paul Baillie

Our modification of an old standby

2/3 cup margarine or butter (1 stick plus 2 2/3 T.)

2 cups brown sugar (or 2 cups white with 1/4 cup molasses)

2 eggs, beaten

1 tsp. vanilla

1 1/2 cups flour

2 tsp. baking powder

1/4 tsp. salt

3/4 chopped nuts (optional)

1 c. choc.chips (optional, but we ALWAYS put these in!)

Cream butter and sugar (and molasses if used) and blend in beaten eggs. Stir in dry ingredients in the order listed. Spread into a greased 9x13 inch cake pan. Bake in a 350 º oven for 30-35 minutes, or until toothpick inserted comes out clean.

Banana Nut Bread
Recipe From: Grandma Hough
1 cup sugar

1/2 cup shortening (1 stick margarine will do)

2 eggs, well beaten

3 large bananas, well mashed (One Cup)

3 T. sour cream (yogurt works well)

2 cups sifted flour

1 tsp. soda, (stirred into sour cream or yogurt)

1/8 tsp. salt

1/2 cup walnuts, chopped fine
Cream shortening and sugar, Beat in the eggs and mashed bananas. Stir in the flour and salt. When well mixed but not over beaten, fold in the sour cream and soda mixture. Lastly blend in the chopped nuts. Pour into a greased and floured bread pan (larger size). Bake at 350º for approximately 1 hour and 15 minutes, or until a toothpick inserted comes out clean.

Oven-Made Caramel Corn
5 quarts popcorn popped

1/2 cup butter

1 cup brown sugar

3/4 cup granulated sugar

1/4 cup molasses

1/4 cup light corn syrup

1/2 teaspoon salt

1/2 teaspoon baking soda

Put corn in roaster pan and keep crisp in slow oven (250 degrees). Combine remaining ingredients except soda and cook in heavy saucepan for approximately 5 minutes to the firm ball stage. Remove from heat and stir in baking soda. (May cook in a large bowl in microwave oven for 6 minutes.) Pour over corn in a fine stream. Stir to mix well. Return to oven for 45 to 50 minutes, stirring every 15 minutes. Take out of oven and cool. When cool, store in an airtight container or plastic bags. Makes about 2 pounds.

Easy Cream Caramels (Tastes as good as See's)
2 cups sugar

1 cup light corn syrup

1/2 tsp. salt

2 cups heavy cream or dairy half and half (warmed)

1/4 cup butter

2 tsp. vanilla
This is such a great recipe and can be done from start to finish in about half an hour!

Measure 2 cups sugar, 1/2 teaspoon of salt and 1 cup light corn syrup into a 4-quart saucepan. Blend with a wooden spoon, and place over a low heat, stirring continuously until the thick mixture begins to dissolve. Continue stirring until the mixture boils, then put in your candy thermometer and boil without stirring over a high heat until the thermometer registers 300 to 305 degrees (I prefer the former). Have ready 1/4 cup butter which has been broken into small pieces and 2 cups heavy cream which has been warmed. Remove the candy from the stove for only a moment, put in the first bit of butter, return the pan to the stove and continue cooking, stirring well and adding bits of butter. The mixture will bubble up and steam. Add 2 cups heavy cream slowly, never allowing the candy to stop boiling hard and continuing to stir vigorously so that it will not stick or burn. Continue cooking until the thermometer registers 246 to 250 degrees, depending on how hard you wish the caramels to be. This whole process should not take more than 30 minutes and will usually take less if the heat is kept high enough. When the desired degree is reached, remove the pan from the stove immediately. Let stand 5 minutes, add 2 teaspoons vanilla. Stir only enough to blend, then pour into a lightly greased pan - 8 X 11 inches is a good size - and allow to cool for several hours. Turn out of the pan, cut into squares or oblongs with a heavy knife, wrap in waxed paper or until or moisture proof cellophane (Saran works) and store in a candy box (those round tins work well). Caramels keep well for weeks in a cool place if they are not exposed to other types of candy.

Nut Cream Caramels: Let the caramel stand an extra 5 minutes after the vanilla is added and then stir in gently 1/2 to 1 cup of coarsely broken nutmeats... pecans, walnuts, black walnuts, brazil nuts or toasted blanched almonds.

These make great Christmas gifts!

Almond Roca (Makes a Great Christmas Gift.)
Recipe From: Mary Ehinger's Mother

1 1/4 pounds almonds (fresh) whole

3 cups white sugar

2 1/4 cups brown sugar

(May use 5 1/3 c. white for all)

2 pounds butter

1/2 teaspoon cream of tartar

1/2 cup water

1 teaspoon soda

18 ounces semisweet chocolate chips

Cook (stirring constantly) all ingredients except almonds and soda on high heat until a candy thermometer reads 275 degrees. Add whole almonds and cook to 305 degrees (watch the thermometer like a hawk once it gets to 300 degrees and pull off just before it pegs 305). Take off and stir in soda and pour quickly onto two lightly buttered cookie sheets. When candy starts to form a skin, cover top with semi-sweet chocolate chips (leave a little space in between). When chips are melted, spread them around to cover the top of candy and sprinkle some ground almonds over all. Cool (placing in the fridge for about 15 minutes speeds this up), and break into pieces. Store in airtight containers.

The Best Marshmallow Creme Fudge (Almost like the real thing!)
Recipe From: Kathy Miller
4 cups granulated sugar

12 ounces evaporated milk

1/2 pound butter

18 ounces semisweet chocolate chips (3 cups)

5 cups miniature marshmallows

1 teaspoon vanilla

1 1/2 cups pecans chopped

In a heavy saucepan combine the sugar, evaporated milk and butter ("good" margarine can be substituted for half of butter). Bring to a boil on medium high heat and boil gently for 9-10 minutes, stirring constantly to prevent scorching. Remove from heat and stir in immediately the chocolate chips, marshmallows, chopped nuts (may also use walnuts) and vanilla. Stir until well blended and pour into a greased 9" x 13" loaf cake pan. Will take a few hours to set up.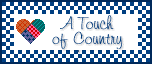 Country graphics courtesy of A Touch of Country.
This page last updated October 2, 2012.